REPERTOIRE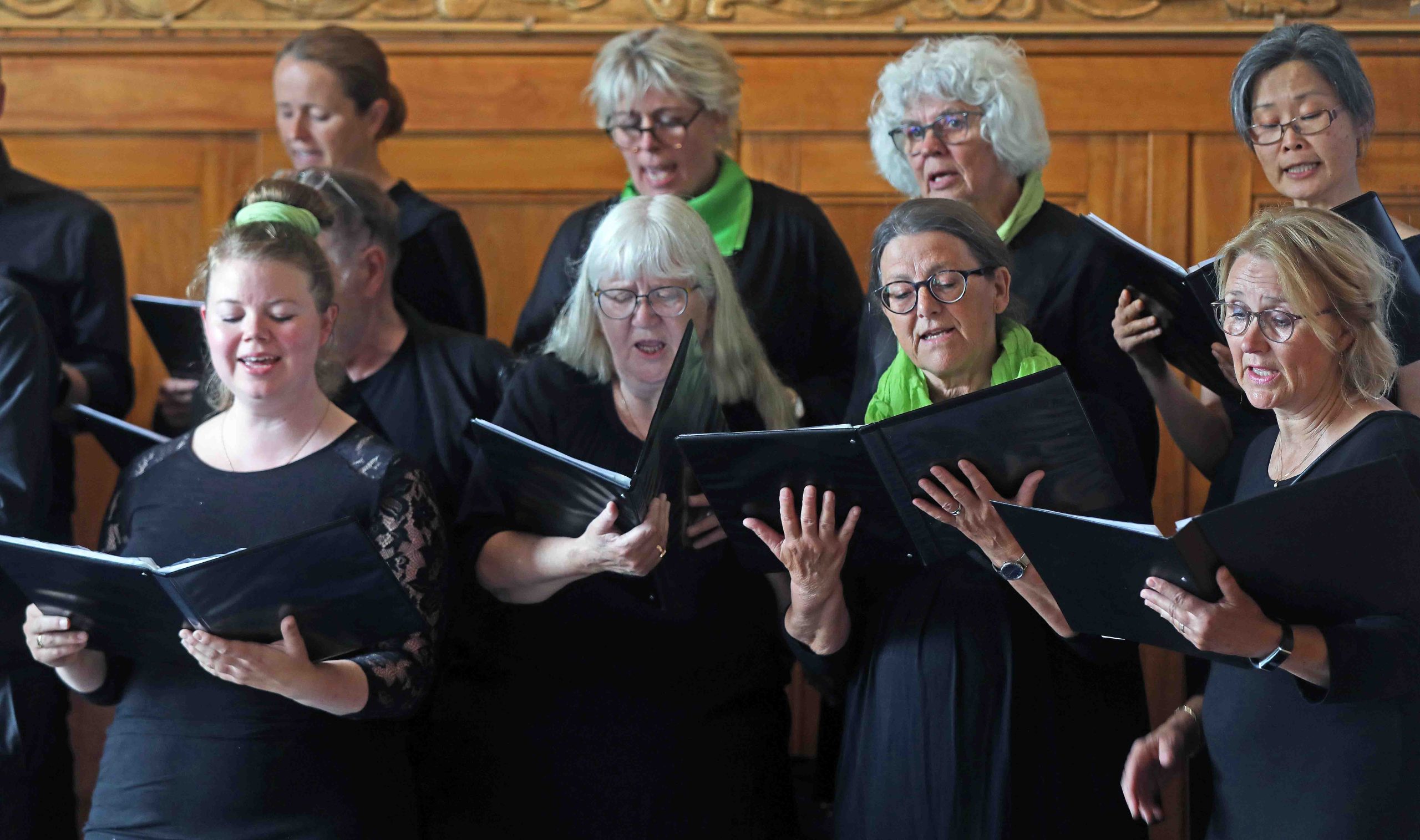 Korets repertoire er den rytmiske musik – soul, blues, pop, rock, jazz …
Du kan lytte til udvalgte numre på denne side.
Nedenfor finder du de aktuelle repertoirelister:
Repertoire 2023
All of Me – John Legend
Angels – Robin Williams &

Guy Anthony Chambers

A Thousand Years – Christina Perri

Der hvor Guds Ansigt stråler – Niels Hougaard Jefsen

Fields of Gold –  Sting

Isn`t She Lovely – Stevie Wonder

Kringsat af Fjender – Nordahl Grieg

Tourdion – Pierre Attaingnant

You`re the Inspiration  –  Peter Cetera, David Foster


Repertoire 2022
Can't Help Falling in Love – G D Weiss, H Peretti, L Creatore
Disney medley
Fuld af nattens stjerner – Sebastian
Grand Prix Medley
Islands in the Stream – Barry, Robin & Maurice Gibb
Kims – Kim Larsen
Kringsatt av fiender – Nordahl Grieg, Otto Mortensen
The Rose – Amanda McBroom
Viva la Vida – G Berryman, J Buckland, W Champion, C Martin

Tidligere repertoire:
Angels – Guy Antony, Robert Peter Williams
As – Stevie Wonder
California Dreaming – John Phillips
Come Healing – Patrick Cohen, Leonard Cohen
Down By the Riverside – spiritual
Down To The River To Pray – Traditional
Eight Days a Week – Lennon & McCartney
Fuld af nattens stjerner – Sebastian 
Goldfinger –  (James Bond titelmelodi)
Good Vibrations – Brian Wilson, Mike Love
Hallelujah – Leonard Cohen
Let The Sunshine In – Galt MacDermott, James Rado, Gerome Ragni
Perfect – Ed Sheeran
Riding On a Mailtrain – Christian Alvad
Skyfall – (James Bond titelmelodi)
Sne – Carsten Borbye Nielsen
Soul Shadows – Joe Sample, Will Jennings
Sway – Pablo Ruiz, L Molina
Tears In Heaven – Eric Clapton
Thank You For The Music – Abba
Time og dag og uge – Anne Linnet, Johannes Møllehave
The Sound Of Silence – Paul Simon
Vintervise – Sebastian
Vårvise – Sebastian
Were you there? – Spiritual
When You're Smiling – Larry Shay, Mark Fisher, Joe Goodwin
You Don't Care – Fallulah
Tidligere Julerepertoire:
All I Want

For

Christmas I

s You – Mariah Carey, Walter Afanasieff

Come Home for Christmas – Helle Hansen

Den himmelblå

–

​​

Shubidua

En stjerne skinner i nat

–

​

Eyvind

S

keie

, Tore W. Aas

Happy Christmas W

ar Is Over –

​

John Lennon

Luk julefreden ind

–

​​

Michael B

ojesen, Beathe

Barndorff

Mary's

Boychild

​​ – 

Jester

Hairston

Når du ser et stjerneskud 

På loftet sidder nissen

​​ – 

Otto

Teich

,

Margrethe Munthe

Ring Christmas Bells

–

​

Mykola

Leontovich

White Christmas – 

​​

Irving Berlin

Winter Wonderland – Felix Bernard &

Richard Smith
Interesseret i at høre mere om og synge med i koret?  Så er du meget velkommen til at kontakte os:)  
Du er også meget velkommen til at kigge forbi –
Vi øver onsdag aften fra kl. 19-21.30
‪
Spændende sange som I synger!
"I er glade – et harmonisk kor – god ro over koret og samtidig energi.. Spændende sange som I synger .. bredt repertoire og fortolkningen af velkendte sange er gode.. man bliver glad og står og nynner ..den der dynamik den er fed.. dygtige musikere der er med …Publikum bliver glade … synes det er godt det I laver !
Dygtig dirigent — den måde han leder på —meget god kontakt med koret og godt kropssprog ..
Helle, publikum ved Foyer koncerter på Odense Teater
Teatergænger
Fire veloplagte foyerkoncerter om året !
BeChoired (Ex Odense Teaterkor) synger fire veloplagte foyerkoncerter om året på Odense Teater i Jernbanegade. Koncerterne ligger inden forestillingsstart i barfoyeren og er gratis. Alle er velkomne.
BeChoired (Ex Odense Teaterkor) blev stiftet i 1998 og har medvirket i flere forestillinger på teatret. Efterhånden er koret blevet helt sit eget, men dukker ind imellem op på teatret med koncerter og i 2018 var koret, med stor succes, en del af forestillingen Hændelsen.
Line Hede Simonsen - Kommunikationsmedarbejder
Ros for korets flotte lyd!
Efter at have fulgt BeChoired (Odense Teaterkor) i nogle år, koncerter i teatrets foyer, kirkekoncerter i området, vil jeg gerne udtrykke ros for korets flotte lyd lyd og begejstrede stemmer samt et spændende og varierede repertoire!
Willy Hansen
Hortonom
Man får lyst til at danse og synge med;)
Fantastisk kor – sikke et repertoire… det er nogle rigtig gode julesange. Man får lyst til at danse og synge med. Jeg lagde mærke til at sangerne smiler ud til publikum.
Man bliver virkelig i godt humør af at høre BeChoired- og Johns Lennons den skiller sig jo altid ud.
Gitte - gæst ved Julekoncerten, 8. december 2019 i Odeon, Odense.
‬